Most people do not have enough advertising power to promote
everything under the sun…
and that is why downline builders were created and are very effective.
Promoting a downline builder is much better than just promoting
one thing, you can build multiple programs at one time..
And infinitely better than promoting everything you have
separately, in the hope that something will work…
Well my good friend Carol Walczak, launched a downline builder with a purpose..
Marketing To Be Free is a downline builder, with a focus on
building your list, traffic and income at the same time.
And when a downline builder gives people a complete funnel,
that has all the necessary tools one
needs to be successful thats even much better!
And thats exactly what Carol did with..
It will help you to earn commissions, and traffic from many
programs online, you can build downline in GVO, PureLeverage,
Four Corners Alliance, and YourEightSteps, all at once..
All the while building your email marketing list first and foremost..
She shows you how to completely, set everything up..
As you can see from my own marketing I have my key programs, and
everything I do or promote centers around them with a very tight
focus on the right process..
Carol Walczaks program Marketing To Be Free, teaches that right process.
Join now for free, and see the many benefits you will get!
To Your Success And Happiness
Sincerely,
Richard Weberg
skype: richard.weberg
P.S. Marketing to be free has many awesome squeeze and splash pages done for
you that you can use in your advertising. Plus she has wrote an awesome ebook, download it now.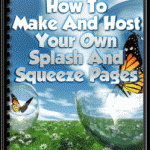 Let connect and be friends!