Well, if you have been on my list any amount of time, you know I am excited about 5 Minute Mogul and PureLeverage. You can tell I am excited and passionate about what I am doing. There has never been a better time to start building your business..and truly I mean that. Some People in the next 30 days will change their financial future forever..because of the emergence of programs like 5 Minute Mogul, Pureleverage, Empower network, people are making absolute fortunes extremely fast with these companies.
Now If you have been struggling to get sign ups to your programs and actually make any real money, there can be many reasons why.
The most important reason most fail online is, trying to do everything for free…this includes free traffic. Traffic with no cost will be a long and pain full road, unless, you are fantastic at building websites, seo, blogging and optimization, creating youtube videos and getting hundreds of thousands of views. But you will not be any good at those things with out some type of cost either. Learn more about from this professional SEO reseller.
Good converting traffic solves all problems…all traffic sources and methods do not produce the same results, meaning 100 clicks from one source may produce 50 conversions, while another source may provide none or very little.
Now I use traffic exchanges and safelist a lot, now they are more of a long term strategy, that is if you want to make over $1000 or more a month, because the conversion is way low, they work, but you need tens of thousands of credits every week to see much headway, even with a very good converting splash or squeeze page. So you either need to surf 14 hours a day to gain this many credits or buy the credits and be upgraded as well to make them produce with any consistency. If you used these as your only traffic sources, and your not upgraded in them and don't buy credits as well, YOU will be at this a hell of a long time before you really see any tangible results, I am talking years! I actually teach this strategy in my membership site at http://youreightsteps.com/?rid=6  and building referrals through these types of programs by promoting to your list the sources you are using, because you build residual traffic. I was broke when I started internet marketing, I had a offline business that went bankrupt and basically lost everything I owned and had to start completely over, I was actually living in welfare housing when I started. So Traffic exchanges and safelist was the only thing I new I could start with for free, and it took me over two years of surfing 14 to 16 hours a day to see any headway. I mean literally the two first years I made nothing. Yes today 9 years later I have hundreds of thousands of traffic exchange and safelist credits, but remember it took me 9 years to do this.
This isnt my only strategy I use, I also buy from other traffic sources and some of these traffic sources convert at a much, much higher rate, and not only that it converts into paying customers ten times faster. I bought a ptc ad from clixsense yesterday for 31.00, or 20,000 credits, with in an 2 hours of the ad being approved I had 35 new pureleverage leads and two upgraded members. There is a whole new world out there when you learn to use paid traffic to your advantage, it saves tons of time, you don't have to manually do anything, and makes you money ten times as fast!!  And when you couple this with the right programs that pay 100% residual commissions or big $500.00 commissions, it is the smartest thing you can do. Its called the "Turn", turning 50 into 100, turn 100 into 500, turn 500 into 3000, etc. This is how I make a full time living online, by working hard but also being smart, I earn and buy traffic.
You can generate a lifelong income doing this very quickly, especially through the programs I outlined above. So do you want to have hyper growth or slow growth. I do it all, because I want to have a continuous stream of traffic to my opt-in pages 24/7. But rest assured if you do not buy traffic, you will be at this a very long time before you see much of any results, a very long time.
Here are some sources I regularly buy traffic from.
http://www.smart-list.com/adsubmit.html
I buy the 20.00-to $60 package here, this will be delivered over a weeks time, first submit your ad then they will take you to payment page.

http://www.clixsense.com/?3459176
You buy ptc ad credits, then they will approve it, then you choose the credit assign through the micro, mini, or standard. I always chose micro and mini. Also they have the clixgrid game I also run my links there as well, 17.00 for 30 days.
http://abel-chua.com/solo-ads/
Solo ads to other people list can be incredible as well. This is actually one of the best sources of traffic that converts into paying customers.
Now if your already a pureleverage member you can log in and on the left hand side click on traffic and lead generation, then click on media buys or solo ads, this is Joel Theriens personal rolodex of traffic!
You see, with solo ads you get to borrow the trust and the endorsement
of the person sending the email. It kinda goes like this
1. Solo ad provider spends years building their list..
2. That list trusts the solo ad provider and knows them
3. That provider sends an email to their list endorsing you
4. Because that lists trusts the provider, you get by far the best conversions ever.
and those of you struggling to get Empower Network sign ups or Pureleverage, I am getting them everyday by promoting 5Minute Mogul with the traffic sources listed above. I also promote my Purleverage opt-in links with above traffic sources, and this week so far am number 26 on the leader boards for pureleverage out of 20,000. I am also the number 1 income earner in 5 Minute mogul. I know how to build and buy traffic that converts. Also look down below and you will see a screen shot of my inbox, shows you how well my traffic system works.
http://www.richardweberg.com/splash/5min.html
skype me with any questions  richard.weberg
Until Next Time, Your Friend And Partner
Sincerely,
Richard Weberg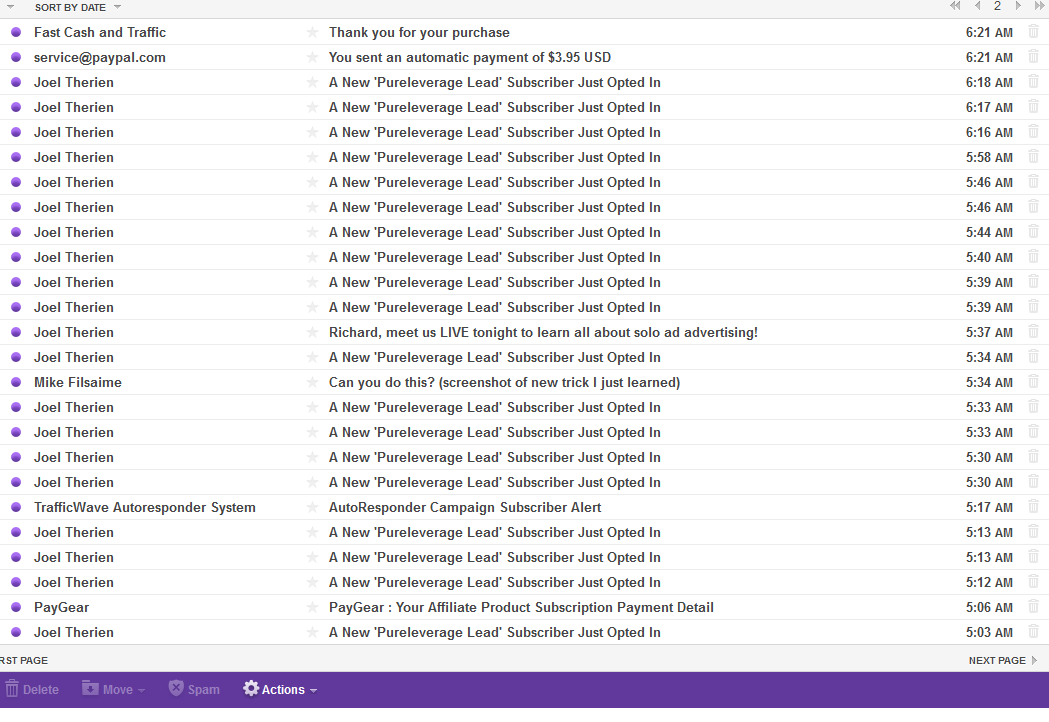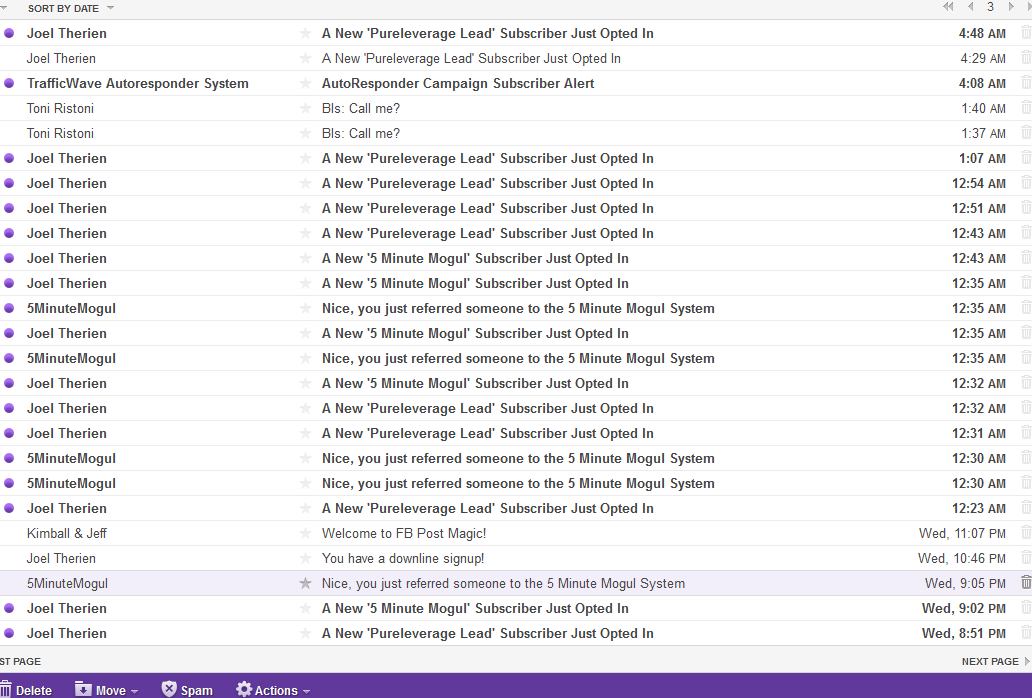 Let connect and be friends!