Starting November 1st we will have our first ever
referral contest at Your Eight Steps!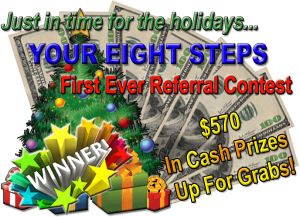 It will be a race to 5,000 and there will be
$570 in cash prizes up for grabs!

10 winners in 2 categories, so that's 20
total.

Come join us and get ready to grab a prize!

And you can win in both categories..and no me and Brenda do not count, you will not be competing against us.
http://richardweberg.com/contest.html

Sincerely,
Richard Weberg

Let connect and be friends!