Here are 5 easy ways to get a quick increase in blog traffic. Do not over think it and get frozen in your tracks, simple easy actions are sometimes all that is needed to increase your websites blog traffic without much difficulty.
Going from 10 daily visitors to 1,000 daily visitors can take a lot of time and effort. The idea of getting more website blog traffic has been believed to be a slow process in which the most complex strategies are the most successful ones.
However, there are some simple and easy ways to get more blog traffic immediately. You will have your long term strategies and shorter ones like these below, just make sure you cover all of your bases including the easy ways..
1. Include social share buttons in your blog post.
This is a easy step to implement that will allow more people to share and syndicate your content to their social connections. Some blogs get a few extra visitors with this method immediately while other blogs get a few hundred extra visitors.
Over time this will help you increase your blog traffic dramatically. Imagine if 100 people share just 1 of your blog post to all of their social connections on Facebook, Twitter, etc..
I see way to many blogs with no social sharing buttons on them, and that is just tons of lost free traffic, you would think now a days, every marketer or business would know better..
There are many great plugins you can use to accomplish this with ease. You can see I have social share buttons at both the top and at the bottom of my blog post articles here.
2. Link to your older blog posts in your newer ones.
Once you get visitors, you want them to stick around on your website.. If your visitors read multiple blog posts on your website, that reduces your blog's bounce rate. A blog with a low bounce rate has a better SEO rank.
Decreasing bounce rate is a simple and easy way to get a better rankings for your content on Google and the other major search engines.
So always link to your other relevant content within your blog post, it is a very important SEO strategy.
3. Write guest post on other popular blogs.
Putting your content in front of a larger audience will allow more people to learn about yours. When people look at your bio through your guest post, they will see your link in your profile and links in the content.
If they like your content that you have done as a quest poster, they may click through one of your links to your blog.
These links you have created through this content as a guest post will also be what is called a backlink. These backlinks will help your search engine rankings, which again will give you more search engine traffic.
Links can be mentioned in different places throughout your guest post. You could place a link in the body of the article anchored to a related keyword or phrase you want to rank for on your site. People often put links in the author bio attached at the end of the article as well.
Internal links in the content prove to be more useful because they have a higher click-through rate as users read the blog, rather than at the end in the bio. I always include them in a couple places in the content and in the bio.
4. Use HARO.
I have mentioned HARO (Help A Reporter Out) many times in the past, because it is an easy way to get free traffic and PR. Big media outlets related to your niche are using HARO to find content writers and bloggers like you. If the journalist or organization likes your submission, they will feature you on extremely popular media outlets.
Being featured on these types of popular media outlets gives you more backlinks as well as a potential TON of very great website traffic. Plus you can use these accolades of being featured on such popular websites to give you and your website much more credibility. This will build you like, know and trust very quickly. Haro guide to submitting content.
5. Encourage comments on your blog post.
This will also help your engagement on your website and blog articles, and keep your visitors on your website for longer, again decreasing your bounce rate. Lower bounce rate helps your search engine rankings. (See how I end my articles below)
I see many bloggers turn off comments, because they are afraid to get their comments spammed but there is any easy fix for stopping unwanted spam on your comments and that is a plugin called Akismet.
The other plugin I would encourage you to get is JetPack, as this plugin will come with Akismet. JetPack is a free plugin and can be installed very easily from your WordPress admin dashboard.
With JetPack you can activate Akismet and use JetPacks other widgets, one of which I absolutely love, and that is, automatic blog subscriptions. This allows people to subscribe directly to your blog post, and every time you post a new one, they will automatically get an email sent to them with a brief description and link to your full blog post.
Jet Pack has some other really nice features as well that will help you get even more quick blog traffic.
Bonus** Leave good relevant comments on other popular blog articles that allow you to add your link with your comment. Do 5 to 10 a day, and you will get traffic from it, as well some will count as a backlink.
Example: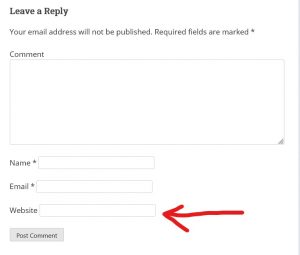 In conclusion.
There you have 5 more ways to see an immediate and quick increase in your blog traffic. While some tactics take weeks or months to see a big change from, these tactics will allow you to see an immediate increase in traffic.

I can't promise you will go from 0 daily visitors to 100 daily visitors overnight, but I can promise you over a short period of time you will see a noticeable increase in your blog traffic.

If you have any questions, don't hesitate to post them in the comments section below or just say hello, would love to hear from you.

Sincerely,
Your Friend And Partner
Richard Weberg

Let connect and be friends!