In this article, you will learn 8 different inexpensive or free advertising methods that you can use to start promoting your business today. There are many ways to advertise for free or on a more limited budget.
With the high costs of advertising these days, it's no surprise that people are looking for cheaper alternatives. Here are some really great proven powerful methods for advertising your products and services without breaking the bank.
1. Create a website/blog
All of your marketing efforts should start with your own website/blog, it should be the center piece for everything you do. It is your own personal web presence and marketing hub. Content is and always will be king online. This will not cost you as much as one might think.
You can get inexpensive quality web hosting at a site like WPX for $20.00 a month. All you need is a domain name which you can buy for cheap at WPX as well, it is only around $14.00 a year. They will help you get it up and running.
Think about this for a moment – You are on our website/blog right now reading this, we did not buy other advertising to get you here, we did exactly what we are sharing with you to do. Make sense?
If you want to do things right and on the down low, it all starts with you having your own web presence online. Everything should pivot from this no matter what niche you are in.
2. Post classified ads
Any type of business or marketing endeavor that you have can get exposure using online classified ads on sites such as classifiedads.com, www.craigslist.org, etc..and these can be very cheap – or in most cases even free. Usually on these types of sites you pay only for enhanced listings, which does not cost much.
You can place targeted ads for your business online every day, and people will find them via search. I have listed 19 sites below to get you started.
Top 19 Classified Ads Sites to Advertise for Free
1. Craigslist
Features: You can find ads for pretty much everything on there and post ads in lots of categories too, without having to login. Craigslist has sections for most cities across the country, it's great for selling your stuff locally and for finding out about gigs, events, jobs, and vacancies near you. One of the most popular classified ad sites.
Features: This site excepts ads for pretty much everything, of course nothing illegal, super easy to post to, and edit your ad anytime. Every ad gets high exposure.
3. Oodle
Features: In addition to stuff for sale, you'll also find jobs, services and personals on there. Like Craigslist, Oodle provides a whole host of categories that you can browse and also list ads in. Using the power of social media, Oodle is reinventing online classifieds.
Oodle provides consumers with a friendly local marketplace to buy, sell and trade. Oodle operates a network of online marketplaces with more than 15M monthly unique users including the Oodle Marketplace.
Features: You don't have to register to post your ads on there and there's a huge selection of categories to choose from. In fact, along with Craigslist, I'd say that ClassifiedAds.com has one of the widest ranges of categories of all the sites on this list.
ClassifiedAds.com is 100% free to use. Free to post an ad, free to browse listings, free to contact sellers.
5. OfferUp
Features: There's a huge range of categories to buy and sell in, making it perfect for anyone who's looking to list stuff for sale or make a purchase. Site is pretty image driven.
6. Gumtree
Features: It's ideal for selling within the UK, where it's the most popular classified ads site. You can sign up with your email address or with your Google or Facebook account.
7. 5miles
Features: It's awesome for local sales, housing, services, jobs and more. Snap a photo, enter a short description, and be selling to thousands of potential buyers within seconds. 5miles uses your phone's location to reach a multitude of buyers and sellers in your area.
Features: Easy to get started with, as many people already have a FB account and you can buy and sell stuff in a huge range of categories.
9. Locanto
Features: You can post an ad on the site without registering. It's very easy to post an ad on Locanto and works just like the ads in the local newspaper. Your advantage at Locanto is that your ad will reach a much larger audience. What makes it even more interesting is that you can upload pictures or add a link to your website.
10. AdPost
Features: There are sections available for tons of different countries and lots of different categories available. OVER 30,000,000 views a month, and thousands of replies daily.
11. PennySaver
Features: You can post a free ad without registering and it's awesome for finding things like restaurants locally and much more! PennySaverUSA.com is visited by 1 million unique visitors each month.
Additionally, they also offer various products and services that can help you maximize coverage within your target market regardless of whether or not someone is a PennySaver reader. Their full suite of products allows you to launch a marketing campaign that targets the right demographics and geographies, all while staying within your budget.
12. Bookoo
Features: Post and view classified ads from tons of different countries. Join the 2,679,773 happy neighbors and get started selling and saving!
13. Adlandpro
Features: It's been around since 1998, making it one of the longest-established sites on this list. You can advertise what ever you like, and include your links to your websites and offers, they have visitors from all over the world.
14. Mercari
Features: They connect millions of people across the US. You can shop and sell almost anything you can think of. You can create a listing on there within minutes. While it's free to list an item for sale on Mercari, you will need to pay a flat 10% selling fee when your item does sell.
15. Geebo
Features: Geebo has a wide range of categories to post your ads to, and you don't have to login to post an ad.
16. Adsglobe
Features: Adsglobe.com is a FREE, feature rich and one-stop online classifieds/ads website, serving over a million locations globally, covering over a dozen advertising zones. There are lots of categories available on the site to post to.
17. FreeAdsTime
Features: You can post and view listings from a variety of countries, including the USA. All you have to do is to fill the post an ad page and hit the submit button. Your listing immediately will be open to public and you can view, edit or delete it at any moment.
18. AdtoAd
Features: A wide range of categories available (including aviation). AdtoAd is a free classifieds and free advertisement site for business opportunities, services, personal ads, cars, real estate, and much more in USA and Canada.
19. LeasedAdSpace
Features: This site not only lets you post free ads on a daily basis through its adboard, it provides you with additional advertising features you will not find anywhere else for such a low one-time cost. I have provided more information on this website in a section near the end of this article.
How Do I Put my Ads on a Classified Website?
You may need to create an account and login to post your ads, several of these didn't require registration at the time of writing this.
Each Classified platform will have its own steps for posting ads. Look for a link somewhere on each site, like "Post An Ad" or "Post Free Ad."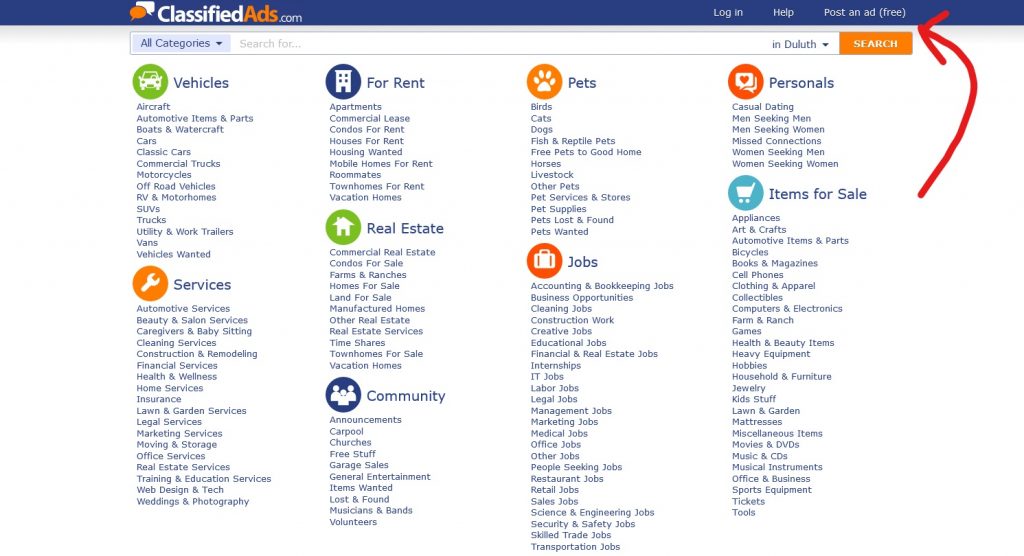 Generally speaking though, when creating an ad, you'll need:
An eye-catching title that grabs the reader's attention. Make it specific to what your posting about.
A brief description of your offer – product or service you are selling. Make it accurate, include important details, and make sure it's honest.
Photo or logo in some cases depending on what you are promoting.
You'll almost always need a catchy title and a good description, whether you're listing an ad for your services, products, your website, affiliate offer, job offer, or a rental property, etc.
It all depends on what you are looking to do. All of these platforms have their own unique upsides in how their used. Since they're all free to use, I would actually suggest using as many as possible. That way you get access to a much bigger pool of traffic, leads, customers and buyers.
The good thing is, with all of these free online advertising sites you can find some way to use them for your business or what ever you are promoting and trying to sell.
The last thing I want to point out with Classified ads is, in the ones that allow posting of a link in your ads, if you have your own website/blog, these links will count as all important backlinks to your site. Backlinks help increase your rankings in the search engines.
Organic (Free) search engine traffic is the holly grail of advertising.
3. Create a Facebook Fan Page
A Facebook Fan Page is a great marketing tool for businesses of any size, nonprofit organizations, entrepreneurs, independent contractors and freelancers, celebrities, musical groups, and even politicians. You can post content such as videos, product images, blog articles, and let followers and customers know about promotions or events and encourage happy clients to share details with their network of friends.
Customers can also interact with you, sharing ideas and suggestions to improve your business. Your fan page will help you to connect with a multitude of Facebook users.
These Fan pages have different attributes than a standard Facebook profile page and are powerful tools to build a loyal following. This will allow you to build a large community of people to interact directly with and share what ever it is you are promoting..
A Facebook Fan page will also help your business to grow virally through word of mouth, when your followers share and like your content.
How to create a Facebook Fan Page
Go to Facebook and sign in to your existing account. The most direct way to create a fan page is from the menu icon right next to your account name in the top right of Facebook. Click on the menu icon, and you will get a drop-down menu listing several options under create.

Click on "Page" and you will be brought to another screen giving you the set up.
Next put in the information for your business, brand or organization. Some people choose to brand themselves as a public figure. Make sure to choose 3 categories and add a good description.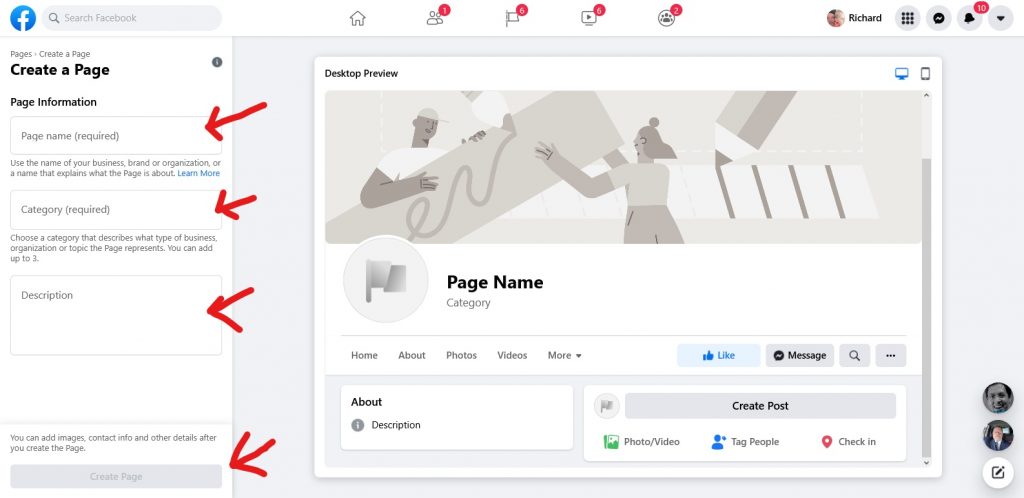 You can include keywords for which you'd like to rank well for in Google or other search engine results (SER) pages. These Fan pages do get indexed by Google, Yahoo, etc
If you decide later you would like to change the category on your page you can do that from the edit menu of your fan page. The edit menu is located under the About tab for the page. You can change the category as often as you would like.
Once you are done with this, click on create page.
Images for Your Fan Page
The next step is to upload the page's profile picture and the cover photo. You can skip one or both of these items and always go back and edit them later.
Some people have an issue with getting the image they want to the right size for their cover photo, you can easily create one on Canva for free or better yet get one professionally made on Fiverr and pay someone $5 – $20 bucks to do it for you. Fiverr you can pretty much get anything that is digitally delivered online done for you very reasonable.
You can also change these items as often as you would like.
4. Claim Your Free Business Listing On Yelp
Again why it is so important no matter what you are promoting and selling online, you need to have your own website/blog, and either brand you or your business.
Even if you are only doing affiliate marketing you should have your own website and brand you as your business, so you can take advantage of all the ways you can get free advertising.
Once you go to Yelp and click on "Manage my free listing" it will walk you through the steps.

5. Signup to Google My Business
Google My Business is a free tool that lets you manage how your local business appears across Google products, like Maps and Search. If you run a business that serves customers at a particular location, or you serve customers within a designated service area, Google My Business can help people find you. Verified businesses on Google are twice as likely to be considered reputable by users.
This is a very enhanced listing that will make your business stand out from the crowd. Personalize your profile with photos, offers, posts, and more.
Imagine yourself in the shoes of a potential customer. This customer is three blocks from your storefront and looking for exactly what you do best in the neighborhood—maybe they've seen your sign or heard about your business from a friend. If they search for your services on Google, what will they find?
Maintaining your business presence on Google My Business can help customers discover the products and services you provide, contact you, and find your location.
And it's all free.
Here is what these listings look like, I am sure you have seen them when you have done searches online. You add your website to these listings as well.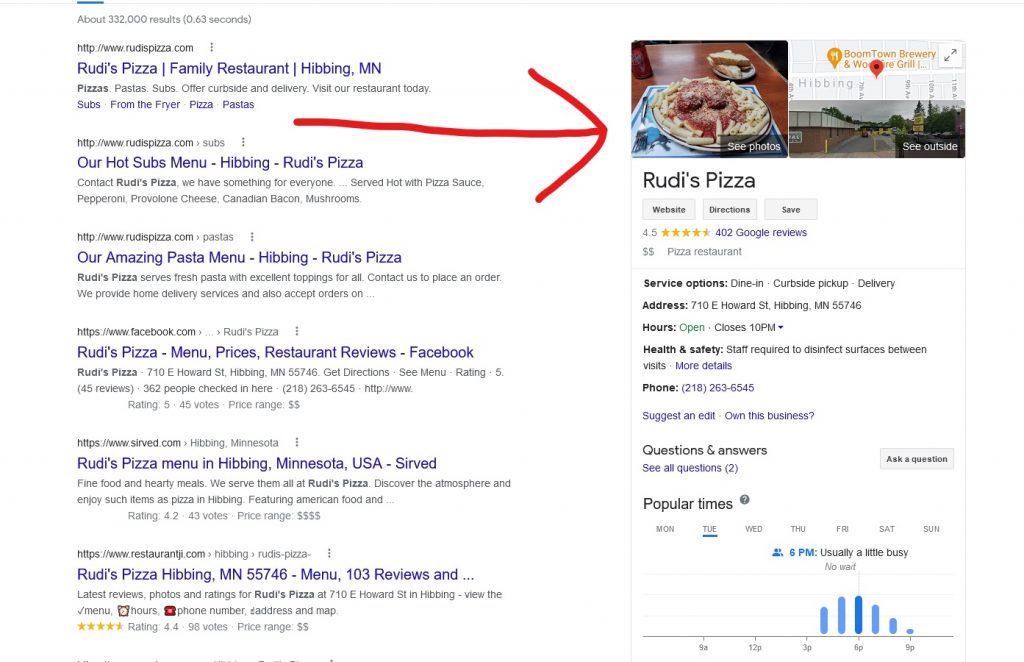 6. Use Twitter to drive free traffic
Twitter is another social media platform, where you can create an account and add your website link, or any link you are promoting for free. I just created an account on Twitter last month and am starting to build a following there. Click here to see what Twitter profiles can look like.
Twitter is great, you can post all of your content there complete with links, and keyword tags. You have a profile where you can add an "About You or Your Business"  and a website link. You can edit this information at any time.
Twitter has over 350 million active users and 187 million users access twitter daily.
How to get followers on Twitter
It is all about engagement with others.
Are you tired of hearing about engagement yet? It's the new buzzword, but it's also ALL important.
Engagement can be boiled down to one word: conversation. You can converse with people on Twitter by replying to their tweets, retweeting their tweets, or tagging them in photos.
Whatever the case, you're showing you care — and that you're listening. Both are important in order to gain followers, as well as sharing your own content on a regular consistent basis.
After you get your account set up, to get things moving start following others that interest you. Everyday interact with these people you are following by liking their tweets and retweeting a few and keep following a few more people each day.
Some of these people will start to follow you back. You will get out of it, what you put into it, it will be the same with your Facebook fan page, you got to do the work, and eventually it will reward you.
Social media platforms can have a huge impact on your business and income when done right.
7. Create a Press Release for your business
This can give you a much needed free traffic boost, and give you some good backlinks for your website. There are sites dedicated to distributing your press release to multiple sources for you.
They will usually send it out to several newswires online for free, and give you more extensive coverage for a small fee.
PRLog.org is one of those sites that does the distribution for you.
Currently, PRLog.org offers the following services –
Press Release Distribution
Press Room Hosting
Business Directory
Job Listings
Expert Directory
Most of the services and features on PRLog are free.
Now if you do not know how to write a short press release, by all means go to Fiverr and pay someone to write it for you, I promise you it will not break the bank. You are looking for a press release not more than 500 words.
You will need to also create an account at PRLog.org, where you can then submit your press release for distribution. You will also be able to create a free public business profile for you or your business.
A tip sheet is the other kind of content that a press release service will publish, aside from an actual press release itself. As an example – write a tip sheet or have one wrote for you with a subject line like, "5 Weight Loss Tips For Fall" and make sure it is VERY high quality.
Publish it through just about any of the premium PR services like PRLog, and if it's genuinely high quality, it will get picked up by news outlets and you will get traffic and exposure.
8. Share your content on Leased Ad Space
Leased Ad Space is an advertising platform, that you can create a free account with, they have optional advertising packages that will give you more advertising features for a one-time cost, starting at like $9.
What I want to point out about this site, is it's domain authority, which is currently at 60. Leased Ad Space has almost 6000 other sites linking to it, and over 2 million back links pointing to it.
There is also over 49,622 members who log in and post content to it regularly. This site has a bounce rate of 21.2% legitimately. The higher the bounce rate you have on a site, is congruent to how fast people leave a site upon landing on it.
There are many advertising features available to you at Leased Ad Space, all of which will help you gain some very nice QUALITY back links, and much needed traffic to your website and offers.
Final Thoughts
I could have made this list much longer, but as most cheap and free advertising methods go, they take effort and time to reap a harvest. These methods I have listed when acted upon through continued diligence can and will produce powerful results.

Save this post, and work on them one at a time, and if you do not have your own website yet, make sure and accomplish this first and foremost, because having your own website/blog is the biggest conduit to gaining free website traffic.

Everything I listed here is like a pillar, and pillars have strength and can last a real long time. The combination of these advertising methods is what makes them so powerful and lasting.

If you want results, then do whats proven to work. There are no shortcuts to success.

If you have any questions, don't hesitate to post them in the comments section below or just say hello, would love to hear from you.

Sincerely,
Your Friend And Partner
Richard Weberg

Let connect and be friends!