I thought I would post this question today, and hope that I can reach some of you who are struggling to make money online. Fortunately for me, I owned several offline businesses in my past so I really didn't have to adjust my mental attitude much when it came to making money online. Once I learned the marketing, (took me two years to understand it, but I never had no system like this one to walk into neither)  anyway for me the marketing was the tricky part, I all ready understood that I wasnt going to get rich overnight and it was going to take a lot of effort and some money to get things going.
I learned along time ago delayed gratification, most of us are so use too going to work for 8 hours a day 5 days a week and then getting a paycheck at the end of the week that we dont understand any way else. Now if you have ever been a business owner, or gone to school for a long, long time like to be a doctor, most likely you understand delayed gratification because you had to put in the time and money long before you ever really got paid. This is one of the reasons so many people fail with online marketing, its not that their stupid they just dont understand delayed gratification and what the rewards are if you just stick with it.
It kinda works like this…………First you work, work, work, work, work, work, work and then you get paid a little. Then you learn a little more and become somewhat experienced so you work, work, work, work, work, work, and once again you get paid, but this time you get paid twice. Now you role up your sleeves and think hey I am really starting to understand this so you……………………..work, work, work, work, work, so Wow you get paid, paid, paid! Your really starting to fly along now so you work, work, work, work, and GET PAID A WHOLE LOT MORE!…………Finally after some time has passed you have started to become somewhat of an expert other people are relying on you for help and now it seems like every time you work you get paid, paid, paid, paid, paid, paid, paid!
That is kinda how most businesses work online or off……..you get paid less or nothing in the beginning when you are doing all the work and get paid a ton of money later when you are hardly doing anything. You just have to make it through your learning curve, how long that is only time will tell and you will never find out if you give up. That was the first decision I made when coming online to make money, that I wouldn't quit no matter how long it took.
So back to the question "How Do You Look At Your Internet Business?"
You really need to ask yourself this. Is this just a hobby, do you see it as a real viable business or is it something your just toying around with? Answering these questions will help you define the time and resources you are willing to put into it and also what you will get out of it. I get a whole lot out of my online business because I put a lot into it, I expected to work hard but I also knew my effort would eventually pay off handsomely as long as I never gave up. You really need to have the right mental attitude to be successful in any business.
Understanding delayed gratification, and having the right mental attitude is a huge part to being successful online. You will be successful in your mind long before you are successful with your internet business. Remember this "You will always act on your belief system" What do I mean by this? Your actions will never go beyond what you believe, you will ask the wrong questions. What separates the poor online marketer from the rich one, not asking the right questions.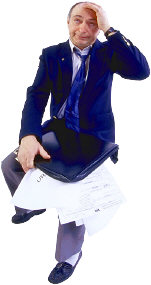 Example:

Why isn't this working for me? or What can I do today to get better results?

Why should I pay money to get website traffic, I dont even know if it will work? or How can I increase my website traffic and double my efforts?

Why does surfing traffic exchanges have to be so boring? or What are some things I can do today to make surfing traffic exchanges more energizing so I dont get bored?

Do I really need to join all these programs, maybe I will only join a few of them? or What can I do to speed up the process of joining all these programs so I can get them all done today?

Try this, take a piece of paper and make two columns write down your answers for each set of questions the first side is obviously the wrong questions to ask yourself  and the other side is the right questions to ask. Then right down what you think the outcome of those answers would be? I think you will begin to understand what separates those who make money online and those who dont? "What questions are you asking yourself" Remember what I said you will always act on your belief system, there is no way of getting around it.

I hope that some of you will benefit from this post, and really start to understand that how you view your business and the questions you ask yourself will really determine what actions you take, and how successful your business is. It really is up to you………..

To Your Success And Happiness

Sincerely,

Richard Weberg

Let connect and be friends!