In today's article and video below I will give you marketing funnels explained, how marketing funnels work, what they are and how to create one, and share examples with you of different types of marketing funnels.
Now a days marketing funnels and lead magnets are much easier to create and make successful, because of the technology advancements in software.
Years ago, you literally needed to know how to code, or hire someone who knew how, to be able to build out marketing funnels. Design was a huge issue, today there are hundreds of templates and examples one can use.
Tweaking and fine tuning your funnels was also more complicated as again especially if you were reliant upon some one else to make the changes for you.
Now with today's software and marketing tools, you can make changes on the fly and with ease.
Marketing funnels explained – how they work.
In the last 18 years that I have been working online, I have had the privilege of being able to speak to thousands of entrepreneurs and online business owners, some successful and some not. No matter what the results they are getting, they always say the same thing.
The successful ones tell me that the key to their success has been building an audience of people who know, like and trust them. Over and over again they all say, they wish they had used an email marketing funnel even sooner.
The ones who are still struggling always know that they need to focus on building an audience, but struggle to get started. And they always ask "How can they create a marketing funnel easier?
My advice is this …
Better a bad funnel than no funnel at all.
Your first funnel may not be as professional as those who have been working at it for years … but better a bad funnel than no funnel.
As I explain in the video above, you will get better over time at creating marketing funnels, and today they are 1000 times easier to create. There are funnel builder software such as GrooveFunnels that give you professional looking templates as part of your membership. They make it even easier to edit them.
Every successful marketer utilizes marketing funnels in some capacity, if you are trying to make money online with out creating marketing funnels, you are getting left behind.
Four things you need to build a good marketing funnel:
1. Lead Magnet
You Lead Magnet is the gift that you give away as a bribe (enticement) to get someone to join your email list. It is usually a free report, ebook, video, webinar or some piece of content that offers to help someone solve a problem or accomplish a goal. "5 Ways to Double Your Traffic in the Next 30 Days", for example.
Or if your marketing physical products, your lead magnet could be a coupon or discount, something of value.
You can create awesome Lead Magnets with Sqribble, with this software you can literally create eBooks & Reports In 5 MINUTES
without typing any words. You can write them your self as well with Sqribble, they give you several options, I explain more in the video above.
2. Lead Capture Page
Your Lead Capture page is where you present your Lead Magnet and give the prospect a form to fill in their name and email address to get your valuable enticement (bribe)
Start by keeping it simple. A headline with a brief description and a simple form is a good place to start. You can create your lead capture page and entire funnel pages with funnel builder software such as GrooveFunnels that give you professional looking templates as part of your membership. You can have a funnel set up by the end of today with ease.
3. Email Management System (AutoResponder)
Your Email Management System, or autoresponder, is where you will keep your database of subscribers. It will take the forms from your lead capture pages and add those people to your list. It also gives you the ability to send follow up emails and broadcast emails to your leads (subscribers) anytime you want.
To get started, you just need one email in  your autoresponder … the email that delivers the Lead Magnet that the subscriber signed up for. Don't wait until you have a carefully crafted 20 letter plus email series. Get started building your list now.
I recommend GetResponse or Sendshark as good quality, full featured autoresponder systems. The cost to get started is about $15 to $25 a month.
4. Thank You / Delivery Page
Once someone subscribes to your list, you need to redirect them to a page where they can get their free report, coupon, ebook, discount, etc. This can usually be created using the same systems you created your Lead Capture Page with. With GrooveFunnels you can create all of your funnel pages.
Once you have created your funnel you will need to…
Advertise it – Get website traffic
Lastly, you will need to advertise & share the lead capture page of your funnel, no traffic = no leads coming through. This is why a funnel is wide at the top, you need to put as many leads (People) through your marketing funnel daily as you can. Either through buying traffic or creating website traffic through content creation on social networks, YouTube, blogging, Quora, etc..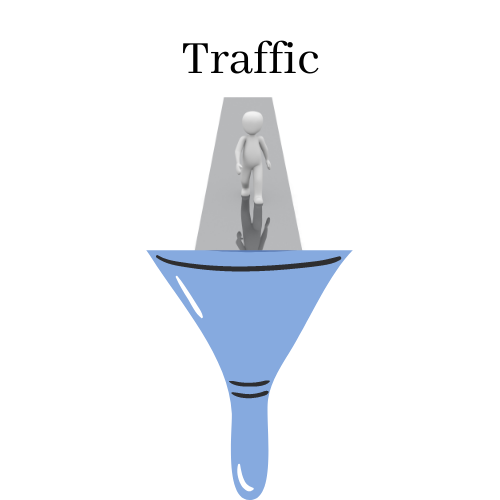 Conclusion.
These elements will get you started on the way to your first successful marketing funnel. Until you start building your email list through marketing funnels you can NEVER have consistent results with your marketing.

Having marketing funnels allows you to become a brand, an authority, to stand out amongst the masses and allows you to change your messaging or sales process anytime you want. By regularly communicating with your audience through building leads is how you will make sales everyday.

Building, like, know and trust with your audience is the key to consistent sales, and building, like, know and trust is impossible unless you have a way to communicate with people over and over again.

I hope this article and video (Marketing Funnels Explained) helps you to now understand what marketing funnels are, how they work, how to create them and how they will help you to be more successful selling products and services online, either through your own products and services or through being an affiliate marketer. I hope the examples I gave in the video really help you to think outside of the box.

Take Action TODAY and create your first marketing funnel to Supercharge Your Success!

If you have any questions, don't hesitate to post them in the comments section below or just say hello, would love to hear from you.

Sincerely,
Your Friend And Partner
Richard Weberg

Let connect and be friends!